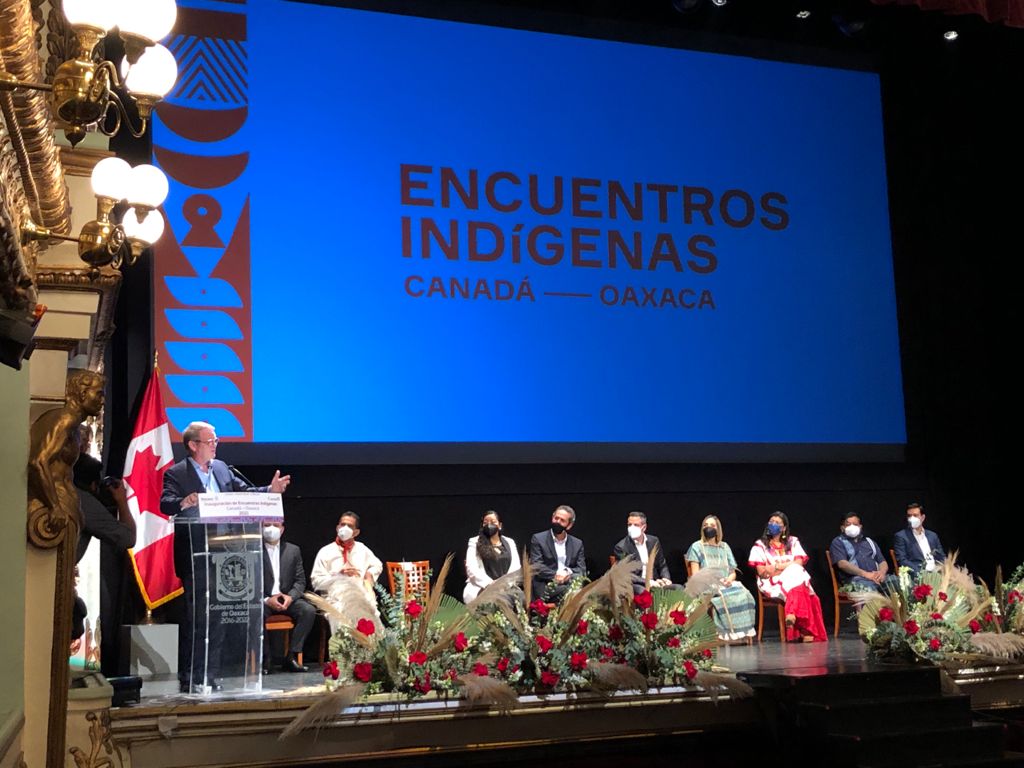 Over 19 days, free activities will be offered in person and online.
Learn about the programming and register at: www.encuentrosindigenas.com
This Monday afternoon in Oaxaca City, the Embassy of Canada in Mexico and the Government of Oaxaca inaugurated "Indigenous Crossroads Canada-Oaxaca". The event will strengthen cultural connections and become a space to share the vision of Indigenous peoples.
This cultural collaboration is carried out in alliance with over 15 Canadian and Oaxacan organizations and is part of a program that seeks to promote cultural exchange between indigenous artists and creators from Mexico and Canada.
In his opening speech of "Canada-Oaxaca Indigenous Encounters 2021", the Canadian Ambassador to Mexico, Graeme C. Clark, accompanied by the Governor of the State of Oaxaca, Alejandro Murat Hinojosa, said that these meetings are the first large-scale cultural activity carried out by Canada abroad since the pandemic began.
"It is for this reason that we decided to dedicate this project to the twinning of the indigenous arts of our peoples, hoping that the creative, artistic and cultural dialogues will continue to strengthen."
Ambassador Clark added that they seek to generate new ways of doing cultural diplomacy and fostering international cultural relations, where communities that have historically been under-represented can be the main actors.
This festival will bring together the natural beauty, the gastronomic heritage and the coincidence of Canadian and Oaxacan cultures. In Canada there are more than 1.67 million people who identify themselves as Indigenous, which is equivalent to 4.9 percent of the total population of the country, according to the 2016 census. Three groups are recognized among them: the so-called "First Nations", the Inuit and Métis.
There are more than 630 Indigenous groups in Canada, representing more than 50 nations and fifty Indigenous languages. The Government of Canada is working to advance reconciliation and renew relations with Indigenous groups based on the recognition of their rights, respect, and cooperation, specifically outlined in ninety-four actions.
The activities will take place from September 20 to October 8, 2021 and will take place in venues such as the Macedonio Alcalá Theater, the San Agustín Arts Center, the Teotitlán del Valle Community Center, the Erasto León Zurita Art Museum in Santa María Coyotepec, among others.
The program includes seven film cycles with the projection of 26 films in different venues in the city of Oaxaca and surrounding municipalities, as well as 15 film cycles in Indigenous cultural and community centers in the different regions of the state.
There will also be augmented virtual reality exhibitionsat the San Agustín Arts Center, the Teotitlán del Valle Community Cultural Center, the Erasto León Zurita Art Museum, Santa María Coyotepec, Villa de Zaachila, and seven exhibitions of video art.
During Indigenous Crossroads there will also be nine poster exhibitions by four Canadian indigenous artists from the Oji-cree, Innuk, Afro Kanien'kehá: Ka and Ligwilda'xw peoples, and five indigenous Oaxacan artists from the Mazatec and Zapotec peoples.
The poster exhibition will be installed in thirty-four historic marquees in downtown Oaxaca, and will include illustrations by Filogonio Naxin (Mazatec), Gabriela Morac (Zapotec), Hazel Eufragio (Zapotec), Jordan Stanger (Oji-cree), Kailey Sheppard ( Inuk), Kaya Joan Da Costa (Afro Kanien'kehá: Ka), Luis José Ramírez (Mazatec), Sonny Assu (Ligwilda'Xa) and Victoria Gaspar (Zapotec).
Other activities include the unveiling of a collaborative mural between the artists Rolande Souliere and the Oaxacan collective Tlacololukos, as well as the participation of 14 musicians and 18 poets.
In total there are 19 days of activities, 26 projections and 3 virtual reality stations, among other activities that can be enjoyed for free. To find out about the program, you can visit www.encuentrosindigenas.com and register for in-person activities, which will be carried out in strict compliance with health regulations.