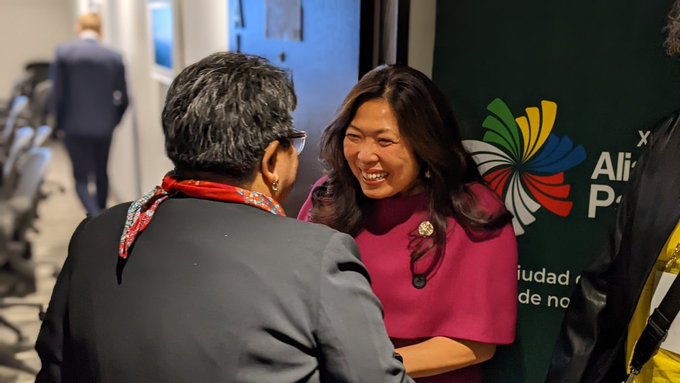 Readout
November 24, 2022 – Mexico City, Mexico – Global Affairs Canada
Today, the Honourable Mary Ng, Minister of International Trade, Export Promotion, Small Business and Economic Development, met with Raquel Buenrostro, Mexico's Secretary of Economy, at the Pacific Alliance Summit hosted by Mexico.
Minister Ng and Secretary Buenrostro discussed Canada's continued commitment to the Pacific Alliance, recognizing Canada's 10th anniversary as an observer state and looking at ways to deepen Canada's relationship with the alliance and the region.
Minister Ng highlighted the importance of Canada-Mexico commercial ties and expressed Canada's commitment to deepening the relationship through bilateral initiatives such as the Canada-Mexico High-Level Economic Dialogue to enhance bilateral business, trade and investment ties, and support inclusive and resilient economic growth.
The minister also discussed the importance of North American competitiveness, including through maintaining resilient supply chains, advancing rules-based trade, and ensuring economic growth that benefits everyone. A key priority in the discussion was to help ensure workers and businesses in both countries can take full advantage of the benefits of the Canada-United States-Mexico Agreement (CUSMA).
Minister Ng conveyed Canada's ongoing concerns in the bilateral relationship with Mexico, including investment and regulatory climate issues in Mexico's mining and energy sectors. She also noted Canada's strong desire to resolve concerns regarding energy sector reform measures in Mexico, which were raised in CUSMA consultations, and made it clear that Canada may explore other available options to resolve this dispute.
The minister also raised the importance of following science-based regulatory approaches to biotechnology approvals, and noted concerns with the 2020 presidential decree in the face of ongoing global food security challenges.
Quick facts
Two-way merchandise trade between Canada and Mexico was valued at $41.7 billion in 2021.
Mexico is Canada's third-largest single-country merchandise trading partner after the United States and China.
Canadian direct investment in Mexico was valued at $25 billion in 2021, making it Canada's ninth-largest direct investment destination.
Mexico has been identified as a priority market for Export Development Canada, which has operated a regional office in Mexico since 2000, providing extensive financial services related to Canadian exports and investments in the country.
Canadian companies represent two thirds of all the foreign investment in Mexico's mining sector. The total stock of Canadian direct investment in Mexico in 2021 had a value of more than $25 billion.
Associated links